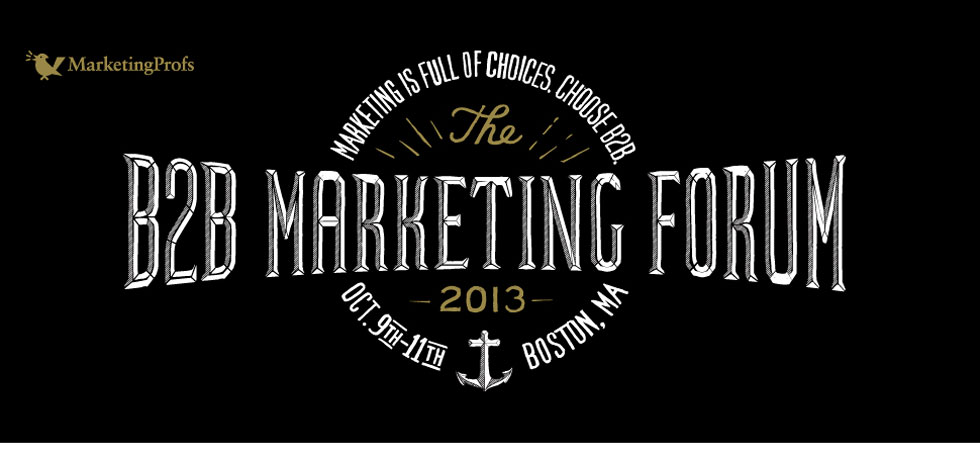 Marketing's full of choices. Choose B2B.
MarketingProfs' 7th Annual B2B Marketing Forum
Boston, Massachusetts || October 9–11, 2013
Register Now
Every day, marketing's full of choices.
You choose your attitude. You choose your image. You choose your positioning and your message.

You choose your products. You choose your markets. You choose the strategy to reach them. You choose the communications tactics for your next campaign—whether that's social or email or postal.
You choose how to measure. You choose what defines success. And, you choose how you'll make that happen.
If you're ready to follow today's smartest marketing advice to advance your career and your business, choose to attend B2B Marketing Forum this October. Register now.
At B2B Forum, you'll gain insight from professionals who understand that while every business may face the same choices there's no one right choice that suits every business. You'll learn what new ideas are out there and how to choose the best options for your marketing programs. Plus, you'll learn how to move from decision to implementation to inspired sensation.
Marketing's full of choices. Start your adventure by choosing B2B.
Register now for MarketingProfs' B2B Marketing Forum 2013 in Boston on October 10–11. Add your choice of a half-day, pre-conference workshop (or two) on October 9 and make your B2B experience that much smarter.
2013 workshop choices include:
| | | |
| --- | --- | --- |
| | • | Advanced Lead Nurturing Tactics (AM) |
| | • | Marketing Writing (AM) |
| | • | Google Analytics (AM) |
| | • | Mobile Marketing (PM) |
| | • | Personas (PM) |
| | • | Content Marketing for Small Business (PM) |
What do you choose? Choose to register now.