The State of B2B Marketing Data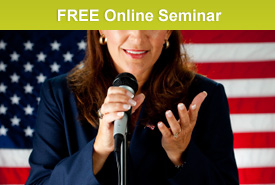 Presenter:

Maribeth Ross

Moderator:

Matthew T. Grant

Sponsor:

NetProspex

Broadcast:

Tue., Feb 26, 2013 1pm ET (10am PT)

Length:

45 minutes
At the foundation of B2B marketing lies an important, yet often misunderstood element: data. Get clarity as we reveal the results of over 100M contacts analyzed within NetProspex's B2B data benchmark report, State of Marketing Data 2013.
This first-of-its-kind report details the health of B2B marketing databases across companies of all sizes and industries, and the results are shocking. Analysis shows that more than 50% of companies work with unreliable contact data that may be negatively impacting their marketing efforts.
During this seminar, you'll learn a modern definition for data quality, how to troubleshoot common challenge areas, and current best practices for demystifying data to maximize results from marketing campaigns. Register now to learn the true state of marketing data and gain perspective around where YOU stand.
BONUS: All attendees will receive a free copy of the State of Marketing Data 2013 report from NetProspex.
Extend the conversation: use hashtag #b2bdata on Twitter and Instagram.
Presenter

Maribeth Ross has extensive experience developing award-winning programs and sales enablement in organizations, both large and small, and has a keen understanding of leveraging data to drive demand. She's currently the vice president of marketing at NetProspex. During her previous role at Iron Mountain she spent five years responsible for thought leadership and go-to-market strategy. She is proud to say that her programs leveraged NetProspex contact data.

Who Should Attend?
Our sponsored seminar program delivers fresh ideas on a variety of topics. This free seminar is especially valuable for:
B2B Demand Generation Practitioners
Marketing Operations Professionals
VP/Directors of Marketing
Sales Operations Managers
What Will You Learn?
Which data poses the most challenge to marketing campaigns and sales performance—and why
How such factors as email deliverability and record completeness impact the performance of marketing campaigns
Which best practices for managing data can drastically improve the performance of your database
About Our Sponsor

NetProspex is the smarter B2B data partner, helping lead generation professionals increase revenue impact through database management. Thousands of B2B organizations rely on NetProspex to acquire targeted prospects for marketing campaigns and sales pipeline. The company's free Data HealthScan offers database accuracy and relevance insights while CleneProspex ensures valid contact information.
Questions?
Call our PRO Hotline: (866) 557-9625