Three Tragic Flaws That Might Mean Curtains for Your Digital Strategy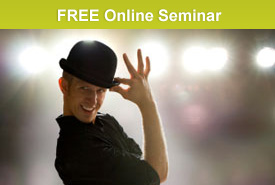 Presenter:

Jason Thibeault

Moderator:

Tobias Schremmer

Sponsor:

Limelight Networks

Broadcast:

Tue., Mar 5, 2013 1pm ET (10am PT)

Length:

45 minutes
You've set the "digital stage" for your online story—content, channels, and purpose. But did you know that three tragic flaws might be undermining even your best efforts? And worse, those flaws might spell long-term doom for your digital presence. That means a bunch of empty seats in the theatre just when your big act is ready to unfold. But don't let stage fright keep you from the performance of a lifetime. By fixing three basic things, you can ensure yourself a digital presence fit for Broadway!
Follow the conversation on Twitter with hashtag #digitalpresence.
Presenter

Jason Thibeault is senior director, marketing strategy at Limelight Networks. As Limelight's thought leader in digital presence and storytelling, Jason works to set direction, strategy, messaging, and market positioning.

Who Should Attend?
If you're a digital or interactive marketer responsible for mobile, social, or video strategy, this seminar is perfect for you. It's also a great fit for content marketers and marketing communications professionals responsible for multi-channel brand storytelling and brand consistency.
Our sponsored seminar program delivers fresh ideas on a variety of topics of interest to B2B and B2C marketers, alike. And because this seminar is underwritten by a sponsor, it's free to attend.
What Will You Learn?
Why mobile is not a separate channel but an aspect of all channels—and how to integrate mobile into all aspects of your digital strategy
Why video must be connected to your other content—and how to better incorporate it into your brand story and engagement plans
Why context matters when choosing content for social channels—and how to maximize your social efforts to generate engagement with your story
About Our Sponsor

Limelight Networks is a global leader in Digital Presence Management. Limelight's Orchestrate Digital Presence Platform is an integrated suite of cloud-based Software-as-a-Service (SaaS) applications that allow organizations to optimize all aspects of their online digital presence across Web, mobile, social, and large-screen channels. Limelight's team of digital presence experts help organizations streamline processes and optimize business results across all customer interaction channels to deliver exceptional multi-screen experiences, improve brand awareness, drive revenue, and enhance their customer relationships—all while reducing costs.
Questions?
Call our PRO Hotline: (866) 557-9625