Trigger Happy: The Next Level of Campaign Automation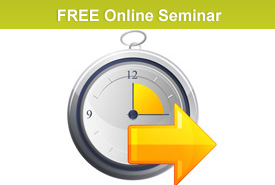 Presenters:

Jonathan Lagasse, Ross Miller

Sponsor:

Experian Marketing Services

Broadcast:

Tue., Mar 26, 2013 1pm ET (10am PT)

Length:

45 minutes
Many marketers today struggle with getting the next campaign out the door, and developing integrated campaign programs that can be triggered in real-time seems like an unattainable utopia. Join us to get inspired by real life examples of how campaign automation is utilized across a multitude of e-marketing programs for Estée Lauder.
Learn how to use campaign automation techniques across a wide variety of programs, such as welcome, e-receipts, retargeting, nurturing, order confirmation, and others, to significantly lift program response and transaction rates (not to mention increase per email revenue 26x). You'll discover how you can realize significant time savings and increase ROI by implementing just one of these programs.
Join the conversation on Twitter using hashtag #emailautomation.
Presenters

Jonathan Lagasse began his career with Experian Marketing Services in 2002 and brings 15 years of experience in digital and email marketing. He helps clients maintain and grow profitable relationships with their customers by providing strategy, tactics, and best practices to enhance their email, mobile, and social programs.


Ross Miller focuses on enabling the Estée Lauder Companies to understand and take action on consumer behavior. His goals are to increase the organization's ability to make decisions about investment in new initiatives, optimize marketing effectiveness, and create personalized relationships with consumers that promote Estée Lauder's high touch service.

Who Should Attend?
This online seminar is perfect for B2C email marketers and integrated marketing campaign managers who are looking to increase the response and revenue generated by their customer communications programs. And because this seminar is underwritten by a sponsor, it's free to attend.
What Will You Learn?
How to present timely offers to drive immediate revenue
How to drive urgency through real-time, limited offers
How to effectively use ratings and reviews in your email programs
How to utilize real-time shopping cart abandonment and website browsing data for timely remarketing campaigns
About Our Sponsor

Experian Marketing Services is a global provider of integrated consumer insight, targeting and cross-channel marketing. We help organizations from around the world intelligently interact with today's dynamic, empowered, and hyperconnected customers. By coordinating seamless interactions across all marketing channels, marketers are able to plan and execute superior brand experiences that deepen customer loyalty, strengthen brand advocacy, and maximize profits.
Questions?
Call our PRO Hotline: (866) 557-9625