Shopping Made Smarter: Employing Smart Marketing in E-Commerce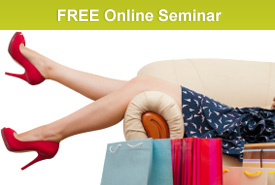 Presenters:

Doug Broujos, Tim Brechlin

Moderator:

Tobias Schremmer

Sponsor:

WhatCounts

Broadcast:

Tue., Mar 19, 2013 1pm ET (10am PT)

Length:

45 minutes
Online retailers are collecting more data about their customers than ever before. But how many are actually using that data to make their online marketing efforts better?
The landscape has shifted; it's more important than ever to use the right data to send the right message at the right time to the right person. Your target customers expect relevant, personalized messages from marketers. And, to deliver these messages, you need to combine all of your customer data across channelsówebsites, email, social, and mobile.
Sound impossible? It's not. Join us to explore strategies and tactics you can use today to improve your e-commerce efforts. You'll learn the elements of a smart marketing strategy for online commerce, from planning and deployment to evaluation and refinement.
Join the conversation on Twitter using hashtag #wcshopping.
Presenters

Doug Broujos is the Vice President of Services at WhatCounts. His primary focus is on providing management support to the account management, technical account management, deliverability and professional services personnel that provide outstanding support to WhatCounts clients. Doug also oversees the Baltimore operations for the company.


Tim Brechlin is a passionate believer in the power of education through effective communication, and has been working in digital marketing for almost ten years. As a services account manager at WhatCounts, he works with clients in verticals including e-commerce, publishing, B2B, and higher education.

Who Should Attend?
Are you responsible for maximizing consumer or business e-commerce sales? Great! This seminar is perfect for you. It's also an excellent learning opportunity for marketers and business analysts who use data to define online strategies and improve their brands' bottom lines.
What Will You Learn?
Why you need to start using customer data to improve your online marketing
Which new digital marketing strategies can increase your e-commerce results
How to combine cross-channel customer data to get people to act
About Our Sponsor

WhatCounts provides data management, software, and services to marketing professionals seeking to deliver smart personalized digital messages to their target audiences. Each day our team partners with over 800 customers to leverage email, social media, mobile devices, and the Web to drive revenue. We believe that smart marketing equals personalization, which requires marketers to have the right data, a content strategy, and automation. Using smart technology, some of our customers are seeing email marketing ROI as high as $200 returned for every $1 invested. We're headquartered in Atlanta, Georgia, with offices in Seattle, Sydney, Baltimore, and other regional locations.
Questions?
Call our PRO Hotline: (866) 557-9625