The Deep Pockets of Chatters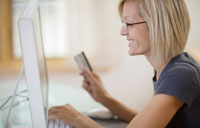 Do Chatty Cathies spend more money online than other cyber citizens? New research says indeed they do. A recent survey of regular online shoppers from BoldChat and Bravestorm, LLC presents new insights into the preferences of customers who use live chat features at shopping sites, and matches their behavior to sales results. The survey defined live chat as "a one-on-one keyboard-based conversation between yourself and a website's representative." Among the findings:
Chatters rank live chat as the no. 1 preferred communication method for each of the following scenarios:
Having trouble finding an item

Experiencing an error during the checkout process
Inquiring about specials or sales
Asking about guarantees or return policies
Chatting has a loyalty effect. "[P]eople who have had experience with live chat are more likely to return to, and make repeat purchases from, sites that offer the option," the researchers report.
It's OK to butt in. "While 52% of [respondents] agreed that they find proactive chat invitations helpful, 73% of those whose average online transaction is greater than $100 agreed with it," BoldChat says.
Chatters have deeper pockets. For online retailers, this may be the golden nugget from the report: "It appears, from a retailer's perspective, that online shoppers who have experience with live chat technology exhibit several desirable behaviors. Chatters, it seems, spend more money." Eureka!
The Po!nt: Chat them up. If you haven't done so, consider adding a live chat feature to your site. The added interaction may feed loyalty and boost sales.
Source: BoldChat. Download the whitepaper here.