Keepin' It Real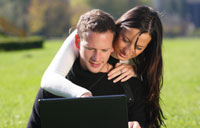 With the widespread use of technical lingo—words like segment, list, database—sometimes it's easy for email marketers to forget about the actual human being on the other side of the Send button. "[W]e're not just delivering to inboxes," Karen Talavera reminds us in a MarketingProfs article, "we're communicating [with] individuals."
Here are a few ways she suggests you can keep it real:
Speak in conversational terms. Create copy with an approachable tone that initiates dialogue. "Your recipients will appreciate that you're paying attention and acknowledging them as live humans rather than a nameless, faceless mass," says Talavera.
Show your personality. Priceline has William Shatner and GEICO has its gecko; if your company has a familiar spokesperson, persona or character, be sure to leverage its power in your emails. Even if you don't have such an icon, she notes, "[K]eep the personality of your email consistent with the rest of your marketing."
Invite subscribers to join in. Actively encourage user-generated content. "People love to hear about how other real people are interacting, benefiting, or learning from you, so tell them," she says.
The Po!nt: Real men (and women) read emails. "The goal of any good direct-response effort should be a dialogue," says Talavera, "not simply a one-way transmission."
Source: MarketingProfs. Click to read the article.