Fun with Richard Branson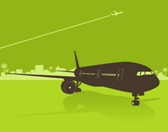 There's a lot to like about Virgin Atlantic, Richard Branson's little airline that could. The airline has stylish cabins, interesting menus, attractive flight attendants and amenity-laden airport lounges. But our favorite Virgin quality is its irreverent attitude. Few companies manage witty self-deprecation with such élan.
A few years back, for instance, Virgin announced a service designed to make long transatlantic flights more interesting. Professional hypnotists, said the press release with great solemnity, would convince passengers they were sitting next to a celebrity. The date of the release: April 1. Several months later, when a MarketingProfs team member sat next to Scarlett Johansson on a Virgin flight to London, he chuckled at the thought that she might only be a figment of his imagination.
With this year's launch of Virgin America—Virgin's foray into the U.S. domestic market—more Americans are being treated to Branson's playful brand of cheek. Karl Long, who blogs at ExperienceCurve, writes about his search for a quirky flight safety video he saw on a Virgin America flight. Long's praise:
Improvement where no one expects it is especially impressive.
Everyone remembered the video and where to find the life jackets.
"The message that they manage to get across here," writes Long, "is, 'If we tried harder to make this video bearable imagine what we'll do to improve the rest of the experience.'" And that's Marketing Inspiration.
More Inspiration:
Jennifer Jones: Determining Online Opinions Is Now Easier
Suzanne Lowe: Getting on the B2B Brandwagon
Gwyneth Dwyer: White Bread and The New Yorker

Previous Articles
Are You A-Twitter?
Bring Your Online Catalog to Life
More articles