Dumb It Up, People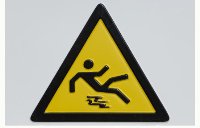 You've just used the restroom at Disneyland, and are approaching the sinks when you have a slight moment of anxiety. What exactly are you supposed to do with the faucet and the soap? Fortunately, there's a small placard, sponsored by a paper-towel manufacturer, that explains how to apply soap, rinse your hands and pat them dry with—you guessed it—paper towels.
For most of us, this is a farcical situation. But it reflects the level of comprehension we sometimes see in customers. You probably receive questions about some aspect of your product or service, something so utterly apparent to you that to explain it seems as inane as offering instructions on how to use soap.
"Every interaction with your public runs the risk that some people just won't get it," he says Seth Godin in a post at his blog. "They won't understand the protocol at your jazz club, or figure out how they use that new thing you just built. They won't get your verbal shorthand or they'll be frustrated by your presumption that they're insiders."
According to Godin, you could try to idiot-proof your product and marketing copy. But that's not really a solution. "Great design eliminates confusion," he notes. "But not for everyone, not all the time. The words and interactions you use often have a sophistication that will confuse some portion of your audience." That's the way it should be, contends Godin, because your product probably isn't very remarkable if it doesn't leave someone scratching his head.
Your Marketing Inspiration: Accept that customers will occasionally ask dippy questions—but instead of catering to the lowest common denominator, make it easy for these people to find answers.
More Inspiration:
Ann Handley: Brands On Twitter
Paul Williams: Brand Lessons You Need To Know
Paul Dunay: Psychology of Buzz Marketing