Olympics of the Mind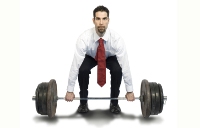 Colleen Coyne, a former member of the U.S. women's ice hockey team, earned a gold medal at the 1998 Winter Games. And in a post at the HubSpot blog, she outlines how the keys to Olympic success apply to your work in marketing. Here are some highlights:
Be in position to be in position. In the parlance of hockey, explains Coyne, a garbage goal is one scored almost by mistake, the result of being in the right place at the right time. In that spirit, she recommends strong calls to action at your Web site's most popular pages—regardless of their function. "You never know who might visit your site," she says. "It is wise to be prepared to capitalize on all opportunities."
Hang out with the pros, and watch what they do. When she wasn't in residency at Lake Placid, Coyne trained in Boston with NHL players and coaches. "What I learned was invaluable," she says. "Internet marketing is no different. You have to find the folks in your industry who are the most successful. Read their blogs, study their websites and find out who is linking to them."
If you're not getting better, you're getting worse. You never hear about Olympic athletes who become satisfied with a certain level of performance and decide to implement a maintenance program. If they did, their competition would leave them in the dust. It's precisely the same deal in business—if you level off, and your rivals don't, you will wind up losing ground.
The Po!nt: If you think like an Olympic athlete, it might actually make you a better marketer.
Source: HubSpot. Click here for the full post.