Pimp My Mag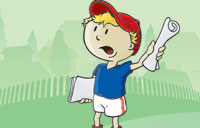 When we discuss content designed to help your customers, we usually focus on whitepapers and social-media channels like blogs. A custom magazine is another way to connect in a meaningful way, but before you embark on such an ambitious project, consider tips like these from Joe Pulizzi at Junta42:
Don't think of a magazine as a super-sized brochure.

Create editorial content that doesn't promote your products or services ad nauseam. According to Pulizzi, if your company's name appears more than a few times on a printed page, it's time to get out the red pen. "[B]rands need to remove the 'sales speak' and start to think like a publisher," he says, "with the #1 goal of providing valuable and relevant content to the reader."

Don't get stuck in a publication rut.

Many publications follow the same pattern of producing a glossy issue every three months and uploading content to a Web site. Instead, recommends Pulizzi, mix things up. Whether recording interviews for later repurposing, supplementing the Web site with online-only content or connecting with readers through social-media channels, there are a number of ways to enhance their experience.

Don't be too ambitious.

It would be great if a custom magazine could generate leads, open new markets and achieve peace in the Middle East. Try to do too much, though, and you'll increase the odds of failure. "To succeed, focus on one key goal," he says. You might want to form relationships with key decision-makers, for instance, or grow your membership.
The Po!nt: Pulizzi cites LEGO Club Magazine as a standard-bearer for the usefulness of a custom publication. "Starting out as your basic custom magazine in the 80s," he says, "this top-tier magazine has spread into an email newsletter, branded music, in-person events, a social network, variable versions (LEGO Club Jr., Brickmaster), spin-offs (Bionicle magazine), and even an on-demand TV Channel."
Source: Junta42. Click here for the full post.

Previous Articles
Is Facebook Really Your Friend?
The Second Life of Marketing Copy
More articles