Get Gored
April 14, 2008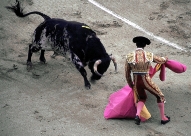 In a post at his Web Ink Now blog, David Meerman Scott links to this video of Al Gore's recent appearance on 60 Minutes, and opines on the former vice president's mad PR skills. Scott argues we can all learn something from Gore—regardless of political affiliations—and here are a few takeaways from his Top Ten list:
Understand buyer personas. Rather than relying on a one-size-fits-all approach, Gore tailors each presentation to his audience. "For example," says Scott, "when he talks to evangelical Christians, he includes passages from the Bible."
Be persistent and stay on message. Gore held the first congressional hearings on climate change in the 1970s, and has spent the intervening decades tirelessly promoting awareness. In the process he has become remarkably adept at steering interviews to the subject. Says Scott, "Even when reporters draw him into other discussions, like who he supports for President, he brings the conversation back to what is important to him."
Know when to advertise. Though a Nobel Prize and Academy Award have garnered plenty of free press, he has undertaken a $300 million ad campaign to further his message.

David Meerman Scott sums up your Marketing Inspiration: "[Al Gore] doesn't talk about his products—books and movie—[but] instead he communicates powerful ideas. He knows exactly what he wants his buyer personas to believe."
→ end article preview
Read the Full Article
Membership is required to access this how-to marketing article ... don't worry though, it's FREE!