How to Sneak Past the Bouncers
May 9, 2008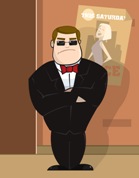 "This is a truth of the Internet," writes Seth Godin in a post at his eponymous blog. "When traffic comes to your site without focused intent, it bounces. [Seventy-five percent] of all unfocused visitors leave within three seconds. Any site, anywhere, anytime."
Godin calls it "silly traffic" and says it encourages a few typical reactions. You might, for instance, work on ways to catch a bouncer's interest, fantasizing about conversion rates if only ten percent would stick around and make a purchase. Or maybe you find all that traffic intoxicating and attempt to attract more of the same with link bait like controversial content.
He recommends another approach:
Ignore the bouncers. Instead, engage your existing users by finding ways to increase their participation, up their devotion and make them more valuable.
Think of existing users as ambassadors. They're far more likely to bring you the focused traffic you really want.
The Po!nt: There's a reason retailers pay premium rents for high-traffic locations when only a few passersby will cross the threshold. "A long time ago, they realized that the shoppers with focused intent are far more valuable," says Godin. "Smart retailers work hard to get focused people to walk in the door and to keep the riff raff walking on down the sidewalk."
Source: Seth Godin's Blog. Click here for the post.

→ end article preview
Read the Full Article
Membership is required to access this how-to marketing article ... don't worry though, it's FREE!