Brand Aid
October 1, 2008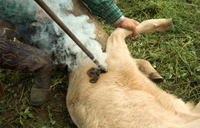 In an article at MarketingProfs.com, Mike O'Toole explains why small businesses instinctively understand the importance of developing brand equity: "It is the quality that motivates your customers to recommend their friends or colleagues to you." And he says you don't need to be a Fortune 500 company to reap the benefits. Here's how to get started:
Clarify your position. "The first step to building brand equity is to define your positioning," he says, "the single thing your company stands for to your customers. Single is the operative word here." Get all of your key players in a room and decide what makes you different and better than the competition.
Tell your story. Give your position an external expression through your best corporate stories—an insight that led to the company's inception, the extraordinary measures you took to satisfy a customer or how your big breakthrough happened.
Bring it to life. "Make sure that the way your company looks and feels to the outside world matches that truth," he says.

Build the brand before they buy. You can make an impression before your customer ever initiates a transaction. O'Toole cites a naming consultancy called Igor that publishes at its Web site a free 100-page guide on its methodology.
→ end article preview
Read the Full Article
Membership is required to access this how-to marketing article ... don't worry though, it's FREE!