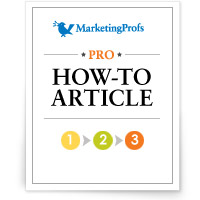 Maintain a Consistent Voice
Keep the language of emails consistent with your other messages. And make it personal.
Major brands go to enormous lengths to maintain a consistent voice across all channels.
A McDonalds TV ad, billboard, voucher, placemat and burger-wrapper all speak with one voice. The same goes for Sony, Ford or the American Cancer Society. They all protect their brands by ensuring that their core message and its style of delivery remains pretty consistent across all media.
In the offline world, the disciplines and processes have long been in place to ensure a consistency of message. But often this isn't the case online. The online environment, still in its infancy, is home to some terrible discord between different messages from the same company.
Purchase today to read the full how-to article ...
This is just one of over 4000 marketing downloads, templates, guides, research reports, surveys, case studies and how-to articles INCLUDED with PRO Membership. Sign up today