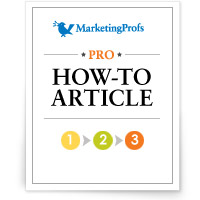 Four Controversial Questions About LinkedIn (and How to Resolve Them)
Of course you know what LinkedIn is—you already have an account, right? And you read "Eight Things to Do Right Now to Get More Out of LinkedIn" a few weeks ago on MarketingProfs.com, and have been working on each of those things...
Still, there are people scratching their heads saying "now what do I do," and others who are saying "something weird happened and I'm not sure how to react."
I've put together four LinkedIn-related questions that I've come across recently, along with my recommendations on how to handle certain scenarios:
Question: Who should own the account? Quick Answer: You should!
Purchase today to read the full how-to article ...
This is just one of over 4000 marketing downloads, templates, guides, research reports, surveys, case studies and how-to articles INCLUDED with PRO Membership. Sign up today