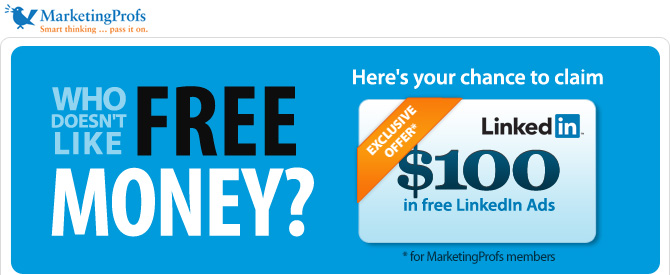 Leads don't come free? Sure they do!

With $100 in free advertising for MarketingProfs' members, there's never been a better time to start your first LinkedIn Ads campaign.

Here at MarketingProfs, we're pretty big fans of LinkedIn. Apparently we've made a pretty big impression on them, too, because they're offering MarketingProfs' members an exclusive deal we're excited to share: $100 in free LinkedIn Ads. (Think of it as money in the bank.)

If you haven't advertised on LinkedIn before, this is THE opportunity for you. Whether your 2013 goals are all about brand awareness, lead gen, or direct ecommerce sales, LinkedIn puts you in front of some pretty powerful people—professionals with budgets to spend—based on YOUR products, services, or content.

And because you choose how you'll narrow in on your target audience and only pay when prospects engage with your ads, LinkedIn is an ideal way to maximize your advertising budget while attracting the most-relevant new business prospects. Create a campaign with your $100 in free ads and see for yourself.

How do LinkedIn Ads work? It's as easy as 1, 2, 3 ... which is how we like it:

| | | | |
| --- | --- | --- | --- |
| | 1. | | Start your campaign off right: define your target audience based on job title, geography, industry, seniority, or even specific LinkedIn Groups. |
| | 2. | | Next, watch your ads drive prospects your way. These aren't just any prospects; these are professionals from LinkedIn's membership network. |
| | 3. | | Finally, pay for placements that worked, not those passed by. PPC means that you're only on the hook when someone actively engages with your ad. |




It's just that easy. If you've never used LinkedIn Ads before, claim your free ad credit and kick off your first of many successful campaigns to come.

LinkedIn: An Audience that Rocks for Your Business

(and the perfect place to start advertising)

Many, many members. LinkedIn has 200 million members, in fact—and adds another two every second.

Influential professionals. LinkedIn members include executives from every Fortune 500 company. It's one of the most influential, affluent, and highly educated audiences on the Web.

Real decision makers. Nearly half of LinkedIn members influence decisions about which products to purchase.

Information seekers. 23% of members use LinkedIn when they need information about products and services.

LinkedIn Ads customers are subject to a one-time $5 USD activation fee. You are responsible for all charges in excess of the promotional credit. (Control how much you spend by setting a daily budget and ending date for your campaign. You can turn off your ads and campaigns at any time.)

This promotional offer is only valid for new LinkedIn Ads customers. One promotional offer per LinkedIn member. This promotional offer can only be used once, may be forwarded to another LinkedIn member, but cannot be sold or bartered. Promotional credit will be applied during the creation of a new Ads account, when you enter your billing information. All Ads are subject to the LinkedIn Ads Agreement and the LinkedIn User Agreement. Void where prohibited or restricted by law. This offer may be revoked at any time for any reason by LinkedIn prior to your creation of an Ads account and entering the voucher code by you. Please be aware that your bank and/or credit card company may charge you a currency conversion fee. Please check with your banking institution for any fees you may incur prior to placing your order as we are not responsible for any additional fees charged to you by any third party.