Project Manage Like a Pro: 3 Expert Tips to Streamline Reviews and Approvals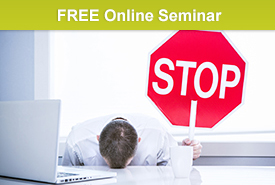 Presenters:

Ashley Spurlock, Kelly Santina

Moderator:

Laura Forer

Sponsor:

Workfront

Broadcast:

Tue, Apr 25, 2017, 1pm ET

Length:

45 minutes
Are reviews and approvals taking over your day? Are you stuck in a continuous loop of looking for the right version of an asset, dodging interruptions so you can review a new proof, and sifting through a jam-packed inbox for feedback?
Stop the insanity and get your day (and life) back!
Join us for this free seminar as we uncover three ways you can work smarter to reclaim your wasted time on reviews and approvals.
To follow the conversation on Twitter, use the hashtag #MarketersRule.
Presenters

Ashley Spurlock is a content marketing strategist with over 10 years of experience in copywriting and managing projects in the marketing, technology, education, and fitness industries. As the solutions marketing manager at Workfront, she directs thought leadership, content production, and strategy for creative agencies and marketing teams.





Kelly Santina is head of operations and media at Convince & Convert, where she oversees team efforts, maximizes efficiency and organization, and contributes to overall strategy and development of new products and services. She has over a decade of experience in digital marketing, project management, and technology integration. Previously, she held senior positions with the top digital advertising agency in Phoenix and was vice president of marketing for Thunderbird School of Global Management.

Who Should Attend?
Any marketer looking to streamline reviews and approvals.
What Will You Learn?
How to streamline review and approval requests
Tips to centralize communication and collaboration
Why and how to create a central repository for all versions and feedback
About Our Sponsor:
Workfront is a cloud-based marketing project management solution that helps marketing departments, creative teams, and agencies conquer the chaos of excessive email, redundant status meetings, and disconnected tools. Unlike other tools, Workfront is a centralized, easy-to-adopt solution for managing and collaborating on all creative work through the entire work lifecycle.
Questions?
Call our PRO Hotline: (866) 557-9625