Advanced Google Analytics: Tricks for Goals, Events, and Tracking Codes
Presenter:

Andy Crestodina

Moderator:

Kerry O'Shea Gorgone

Broadcast:

Thu, Jul 20, 2017, 12pm ET

Length:

60 minutes

Rating:
Today's digital marketers rely heavily on website analytics. They're how you evaluate campaign performance, understand your customers, and make improvements to your site. At least, that's how it's supposed to work.
But what if you're not well-versed in all the measurement opportunities that your analytics provide? Tools like Google Tag Manager and Google Analytics are powerful, but they're most effective when you know how to set up goals, tags, and events.
In this Teach Me How seminar, you'll learn how to add and manage your marketing tags with Google Tag Manager without getting all technical and digging into code. You'll discover how to gain insight into the source and behavior of your visitors so you can understand their needs to give them a better experience.
Bonus! Seminar attendees get this How-To Guide!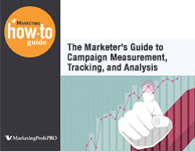 The Marketer's Guide to Campaign Measurement, Tracking, and Analysis
In this guide, you'll learn how to measure, track, and analyze your marketing campaigns so you can best understand, dollar-for-dollar, what's working (and what's not). From learning how to design your systems and campaigns to delivering the right data, you'll discover how to prove the ROI of your efforts.
Presenter

Andy Crestodina is co-founder and strategic director of Orbit Media, an award-winning Web design company. With 16 years of Web marketing experience, Andy is a frequent speaker on topics including content strategy, analytics, social media, SEO, and email marketing.

Who Should Attend?
Marketers with a solid understanding of Google Analytics and anyone involved with website tracking and reporting.
What Will You Learn?
By the end of this seminar, you'll be able to:
Set up Google Tag Manager for your site
Set up goals in Google Analytics
Create subdomain, cross domain, and event tracking codes
About Teach Me How Seminars
Teach Me How seminars are live, 60-minute webcasts with actionable, tactical takeaways. Not your typical seminar, these highly interactive events explain a topic in an interesting, engaging, and entertaining virtual setting. Each seminar comes with a detailed How-To Guide and a step-by-step Action Plan. Other seminars tell you what you should do—ours teach you how.
Register Now!
You have two choices. You can pay as you go, buying single sessions that interest you. Or you can buy a PRO membership, and attend all our new PRO seminars and Take 10 webcasts over the next year, plus watch hundreds more from our library on-demand.
Questions?
Call our PRO Hotline: (866) 557-9625