How to Succeed at LinkedIn Content Marketing: Three Must-Have Strategies
Presenter:

Viveka von Rosen

Moderator:

Kerry O'Shea Gorgone

Broadcast:

Thu, Dec 14, 2017, 12pm ET

Length:

60 minutes

Rating:
B2B marketers recognize LinkedIn's vital role in generating leads. According to a recent LinkedIn study, 92% of B2B marketers leverage LinkedIn over all other social platforms, and 79% see the social network as a useful source for B2B leads. But it's not like shooting fish in a barrel. Your success on LinkedIn is contingent on your LinkedIn community, culture, and content. Now more than ever, a content strategy is non-negotiable.
In this Teach Me How seminar, you'll hear about three powerful content marketing strategies using specific LinkedIn tools. You'll discover how to capture your leads' interest with LinkedIn's publishing platform, native video, and long-form updates. You'll also learn how to use these strategies to increase your brand's visibility to keep you top of mind among your audience and cement your positioning as a leader in your industry.
Bonus! Seminar attendees get this How-To Guide!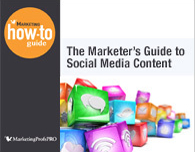 The Marketer's Guide to Social Media Content
In this guide, you'll learn how to develop a strategic approach to producing content on your social media platforms that will spark conversations and engage your audience. You'll also discover how to measure your results to determine what's working (and what's not!).
Presenter

Viveka von Rosen is a cofounder and chief visibility officer at Vengreso, the world's largest full-spectrum digital social-selling provider. She's a contributing expert to LinkedIn's official sales and marketing blogs and their Sophisticated Marketer's Guide series, and has written for Fast Company, Forbes, Money, and Entrepreneur. Viveka's 10+ years of LinkedIn experience has helped her create engaging and actionable training that gives marketers the tools and strategies they need to succeed on LinkedIn.

Who Should Attend?
Marketing and sales professionals interested in developing a LinkedIn content marketing strategy.
What Will You Learn?
By the end of this seminar, you'll be able to:
Drive viewership, engagement, traffic, and lead generation with published posts
Increase your visibility with LinkedIn video
Incorporate long-form updates into your social media marketing
About Teach Me How Seminars
Teach Me How seminars are live, 60-minute webcasts with actionable, tactical takeaways. Not your typical seminar, these highly interactive events explain a topic in an interesting, engaging, and entertaining virtual setting. Each seminar comes with a detailed How-To Guide and a step-by-step Action Plan. Other seminars tell you what you should do—ours teach you how.
Register Now!
You have two choices. You can pay as you go, buying single sessions that interest you. Or you can buy a PRO membership, and attend all our new PRO seminars and Take 10 webcasts over the next year, plus watch hundreds more from our library on-demand.
Questions?
Call our PRO Hotline: (866) 557-9625