Optimize Your Search, Facebook, and Display Targeting With Call Analytics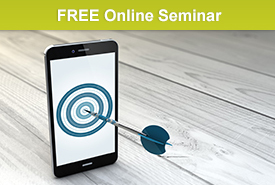 Presenter:

Blair Symes

Moderator:

Laura Forer

Sponsor:

DialogTech

Broadcast:

Tue, Feb 27, 2018, 1pm ET

Length:

60 minutes
Digital advertising success is all about showing the right ad to the right person at the right time. Most marketers know how to target using things like location, device, and demographic data, but what about using data from phone calls? For businesses that want calls, there are new ways to use caller data to reach the right audience with the best message to drive engagement.
Join us for Optimize Your Search, Facebook, and Display Targeting with Call Analytics to learn the different ways to use call analytics to increase AdWords, Facebook, and display ROI.
Presenter

Blair Symes is the director of content marketing at DialogTech, the leading provider of actionable marketing analytics for phone calls. Over the past 20 years he has published hundreds of articles and e-books, and presented dozens of webinars on a wide range of marketing topics including omnichannel attribution and conversion optimization.

Who Should Attend?
Digital marketers who want to better target their social and search ads to the right people at the right time.
What Will You Learn?
How to use call data to engage new leads and re-engage those who have previously failed to convert
How to use exclusions to eliminate wasted ad spend
How to use call analytics to upsell current customers
About Our Sponsor:

DialogTech provides actionable marketing analytics for businesses that value inbound calls. Consistently recognized as the leader and pioneer in call analytics and optimization, DialogTech is the trusted solution for Fortune 500 brands, agencies, and fast-growing companies. Through AI-driven insights, omni-channel reports, seamless integrations, and world-class support, DialogTech delivers unprecedented intelligence on inbound calls that marketers use to optimize ROI, drive revenue, and deliver unparalleled customer experiences.
Questions?
Call our PRO Hotline: (866) 557-9625