We Have the Perfect Membership for You
Need smarter marketing? We can help. For more than 10 years, MarketingProfs has shown professionals like you what really works—and what doesn't—in the marketplace today. Basic Membership includes marketing tools such as access to a rich library of articles and newsletters. PRO Membership adds how-to seminars, short Take 10 webcasts, inspiring Case Study Collections, handy SmartTools, and more. Join today, and learn why more than 600,000 professionals rely on MarketingProfs to help them build marketing programs that work.
MEMBERSHIP FEATURES

BASIC MEMBER

Free!

PRO MEMBER

$279/year
free 7-day trial

PRO TEAM

$499/year
3 members*

Search more than 5,000 articles and daily posts on hot marketing topics. These free articles offer actionable takeaways for busy marketers. Browse our rich library for the relevant know-how you need to succeed.

MarketingProfs Today helps you stay on top of trends, tactics, and technologies impacting the marketing field.

Anyone with a MarketingProfs membership can participate in Know-How Exchange, our online discussion forum. Join an existing conversation or get a new one going by posing a question to the community.

Our sponsored seminar program and our sponsored virtual conferences deliver speakers with fresh perspectives on a variety of topics. And, best of all, because sponsors underwrite these events, they are free to attend!

We bring together leading minds to break down today's hottest marketing topics in an interactive, online format. All seminars are free with PRO membership (retail price: $129 each). Can't make it to the live broadcast? We've got you covered! Every seminar is recorded. Enjoy unlimited access to our library of 400+ on-demand recordings.

Learn something new in just 10 minutes! Each Take 10 features step-by-step instructions on a very specific topic. These webcasts are jam-packed with takeaways. They come with handy checklists, so there's no need to take notes. Just download the PDFs. Plus, they work on mobile devices. So you can learn on the go.

Our special, in-depth reports deliver what you need to know to launch and support new campaigns—all in one tidy package. Our How-To Guides, Research Spotlights and Case Study Collections are sold separately in our Store for $49–$99 each. Or get them all (free) as part of your PRO membership!

Make your job easier! Rapidly plan, build, promote, and evaluate effective marketing programs using our interactive, online SmartTools. Simple to use, this software will walk you through each step of a project, such as, writing a marketing plan, developing a social media strategy, launching a blog, creating high-performance landing pages, or managing your email list.

Get special pricing on registration for our in-person conferences. Inspiring presentations, one-on-one coaching, and powerful networking—you won't want to miss these premiere events in the marketing field!

Continue your education at a discount. Immerse yourself in today's most in-demand marketing disciplines, including social media marketing, email marketing, video marketing, and content marketing. Each training course offers 10+ hours of instruction about how to plan, build, and measure successful programs.

Find all current PRO content in one place! This page displays the most recent seminars, Take 10 video tutorials, and How-To Guides.

Looking for resources on a particular topic? Our concierge will source the resources and email them to you, so you can spend your valuable time putting together your next superstar campaign.
*Team Discount: Pay just $499 for the first three members, plus $167 each after that. We have special programs for groups of 20+. Learn more.
| | |
| --- | --- |
| | |
Learn More About Us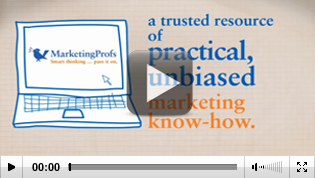 Already a Member?
Sign in to access your member benefits.