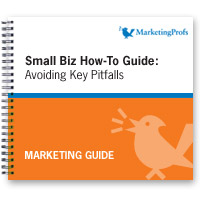 Small Biz How-To Guide: Avoiding Key Pitfalls
Nine out of ten new businesses fail within the first five years; have of those don't make it to year two. It's a stark fact. And our guide for Avoiding Key Pitfalls addresses the three biggest mistakes that lead to failure.

By identifying and correcting these errors, your small business stands a much better chance of being that one in ten that succeeds.
This is just one of over 4000 marketing downloads, templates, guides, research reports, surveys, case studies and how-to articles INCLUDED with PRO Membership. Sign up today