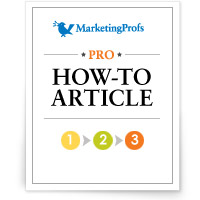 Bringing New Color to the Gray World of Whitepapers
One of the most powerful ways B2B marketers can attract qualified leads is by offering expertise in exchange for contact information. Whether you call the resulting deliverable a "report," an "e-book," or a "whitepaper," the net effect is the same: You build credibility and trust by creating valuable content your prospects respect.
Whitepapers have been with us for a long time. But innovations in printing and distribution—and even in the way we conceive of whitepaper content—have dramatically changed the game. Let's take a look at the ways we can bring color to the whitepaper—and multiply the impact of our efforts.
It's no longer linear, but modular
Traditionally, the whitepaper obeyed a formal model that presented a thesis, an executive summary, a persuasive "argument," and a conclusion followed by appendices of research and data.
Purchase today to read the full how-to article ...
This is just one of over 4000 marketing downloads, templates, guides, research reports, surveys, case studies and how-to articles INCLUDED with PRO Membership. Sign up today