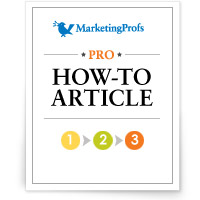 10 Tips for Using LinkedIn to Generate Leads
You need to rethink the way you use LinkedIn. Without some of us even noticing, it has developed into a useful lead-generation tool for marketers and salespeople who are looking to build relationships with prospects.
But if you're looking for an easy lead source, you won't find it here. After using LinkedIn to build my own discussion groups, I've discovered that using it as a lead generator can be a simple process—if you're willing to invest a little time sharing your expertise and thought leadership.
Here are some ways to make the most of LinkedIn for lead generation.
1. Create a polished and personally branded profile on LinkedIn
Purchase today to read the full how-to article ...
This is just one of over 4000 marketing downloads, templates, guides, research reports, surveys, case studies and how-to articles INCLUDED with PRO Membership. Sign up today