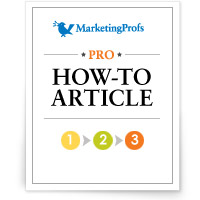 Plan B: Seven Back-to-Basics Questions to Ask About Your Buyers to Drive Growth
According to the 2009 Spencer Stuart survey of more than 300 senior-level marketers, 55% said emphasis on a short-term response to the economic downturn has led them to neglect long-term strategy.
Marketers have to "fight fires by cutting head count, reducing ad budgets, reallocating the spending they do have.... Given the priorities of what they have to do right now, long-term strategy is probably not one of them," reports Tom Selcow, leader of Spencer Stuart's marketing-officer practice.
As the ice blanketing the economic landscape starts to melt, however, marketers are sure to shift at least some of their mental energies away from what to cut out of their budgets to what to do to drive growth and improve return on investment (ROI).
Interestingly, more than 80% of senior marketers also said they believe they're in "good" or "excellent" shape to drive growth once the downturn subsides. Whether or not as many marketers are as prepared as they say they are, one thing's for sure: It won't be business as usual.
Purchase today to read the full how-to article ...
This is just one of over 4000 marketing downloads, templates, guides, research reports, surveys, case studies and how-to articles INCLUDED with PRO Membership. Sign up today