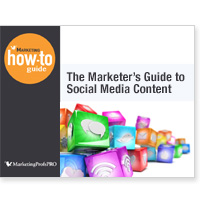 The Marketer's Guide to Social Media Content
To many marketers, social media is becoming less and less... social. Industry reports declare that social media usage continues to grow, and yet the content marketers post often is not greeted with comments or likes or even notes of disdain, but with something more representative of, well, crickets—that deafening silence that reminds us this isn't working.
Except that it is working—not for all, but certainly for some, and we're here to tell you that the difference doesn't come down to luck. It's the result of a grounded, strategic approach, which you'll learn about in this guide. So, if you're tired of low response rates on social media, then settle in and keep reading because we're going to show you how to do it right.
In this 61-page guide, you'll learn how to, plan, develop, and optimize social content that captures and engages the attention of your audience.
You will learn how to:
Understand audience preferences and establish your content strategy and goals accordingly
Design content for engagement
Develop and champion your goals, stimulate action, and optimize results
... and much more!
This is just one of over 4000 marketing downloads, templates, guides, research reports, surveys, case studies and how-to articles INCLUDED with PRO Membership. Sign up today