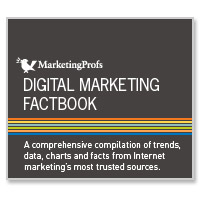 Digital Marketing Factbook (2009)
At 296 pages and 254 charts, the Digital Marketing Factbook has the solid, up-to-date information you need to make informed, intelligent decisions that drive great marketing plans and ROI. Our expert research team scoured hundreds of sources to create an unbiased, well-rounded set of data for the second edition of our Digital Marketing Factbook (reflects 2009 data).
This expanded Digital Marketing Factbook is packed with more than 254 easy-to-use charts and graphs, as well as expert insights and advice to help you translate statistics into meaningful data you can use. This unique combination will help you sharpen your marketing plans and support concrete business cases.
With clear facts and analyses guiding your decisions, you'll find it easy to:
Prove to execs that it's time to step up your social marketing mix;
See how new search tools and engines (like Bing) are changing the game;
Understand what's driving e-commerce and adjust your plans accordingly;
Make your reports and presentations pop;
And more!
Plus, with your complete 296-page Factbook purchase, you receive all the charts in a downloadable Microsoft PowerPoint presentation, making it easy to share this vital information with your organization.
The Digital Marketing Factbook includes six digital marketing chapters—The Digital World, Email Marketing, Search Marketing, E-Commerce, Mobile Marketing, and Social Media Marketing. However, if you're only interested in some of the topics, you can purchase just the sections you need:
This is just one of over 4000 marketing downloads, templates, guides, research reports, surveys, case studies and how-to articles INCLUDED with PRO Membership. Sign up today