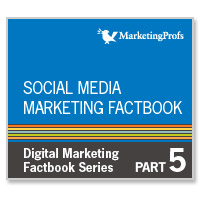 Social Media Marketing Factbook
Part 5 of the Digital Marketing Factbook series, Social Media Marketing Factbook (140 pages and 102 charts) is made up of Chapter 1 (The Digital World) and Chapter 6 (Social Media Marketing) of the Digital Marketing Factbook. Reflects 2009 data.
Both consumers and the media are obsessed with social media. Popular social networking sites, such as Twitter, Facebook, and YouTube, are experiencing unprecedented growth and inspiring marketers in new and exciting ways. Smart companies—large and small—realize that the opportunities presented by social media are too good to pass up.
The Social Media Marketing Factbook includes the latest research and statistics on how and why marketers are embracing social media. It also provides valuable insight on why social media doesn't have to be all fun and games—it can be an extremely profitable marketing tool. You'll learn which social media strategies will help you succeed and which ones will likely crash and burn in the near future. With 102 charts and graphs to help you understand consumer and corporate attitudes about the Internet and social media, this book is a must-have for anyone interested in using social media to build brand awareness and generate sales. Use the unique information in this book—and the invaluable expert insights that come with it—to create and implement your most powerful social media marketing program to date.
Interested in more than social media marketing?
The Social Media Marketing Factbook is Part 5 of the complete Digital Marketing Factbook, which includes six digital marketing chapters—The Digital World, Email Marketing, Search Marketing, E-Commerce, Mobile Marketing, and Social Media Marketing. Buy the Digital Marketing Factbook (our 296-page full report), and get all six chapters bundled together at a substantial discount.
Available for individual purchase:
PRO members receive substantial discounts on research and other products—plus they get full access to thousands of exclusive articles, case studies, guides, and SmartTools. Sign up today