RSS is getting much media coverage. But very little is being said about the full circle of RSS marketing power.
The truth is that RSS (which stands for Rich Site Summary, or Really Simple Syndication) goes far beyond "simple" blogging or news delivery. (For an explanation of RSS and what it does, see this MarketingProfs article.)
Business Case for RSS
RSS can be fully integrated in most marketing activities, having the power to extend them and increase their results. This is best demonstrated by the "Business Case for RSS" model: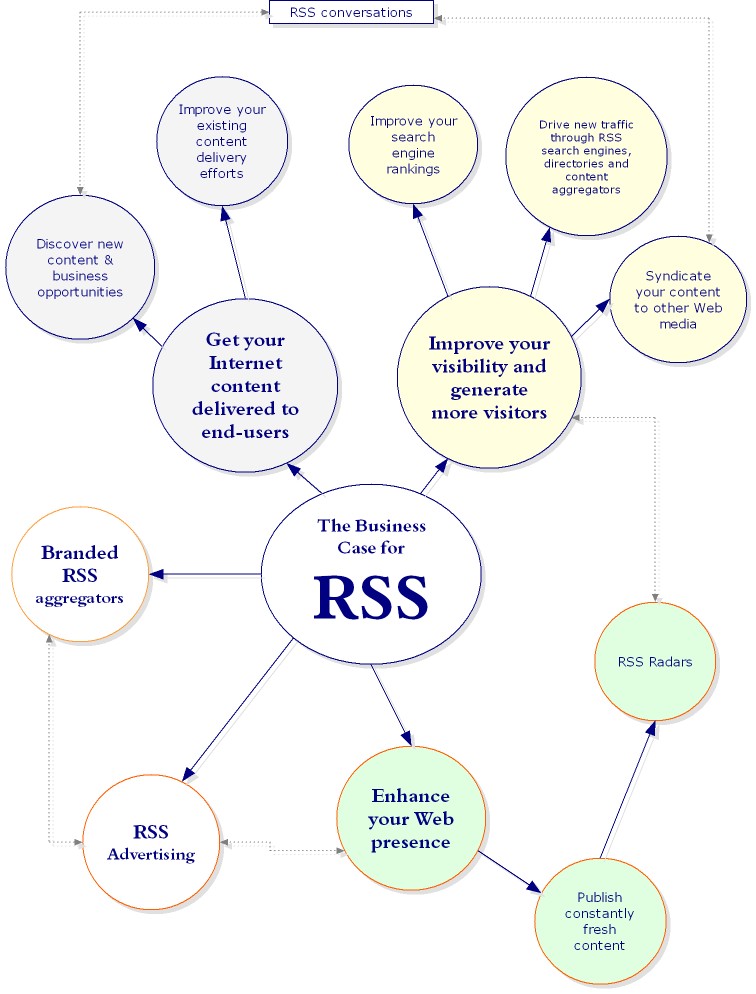 Click to enlarge
RSS is a content-delivery channel for communicating with subscribers, customers, prospects and partners. It gets your content delivered and provides you with multiple new content delivery and business development opportunities. RSS offers a sort of delivery guarantee, as opposed to email, which is burdened by Spam, phishing and many other troubles.


RSS is a promotional/visibility tool that increases your traffic by improving your search engine rankings, generating traffic from new RSS specific sites and getting your content published on other sites. Each of these activities brings new visitors to your site, which are now ready to be converted in to new subscribers with whom you can communicate (via RSS and/or email) for the long term. In addition, the improved visibility enforces your brand and generates more credibility for your company.


Content delivery to end-users and content syndication together form the basis of RSS conversations, which together work to spread your reach throughout the Internet and serve as a strong PR platform.


Once you have access to more prospective subscribers to whom you want to deliver content via RSS, you can provide them with your own branded RSS aggregator to make the switch to RSS easier for them. This also establishes a constant connection with them, enforces your brand and develops brand experience. Your branded aggregator also serves as a sales platform for your own products as well as an advertising platform to generate advertising income.


As a site publisher, your goal is to better satisfy the needs of your visitors, establish yourself as a key content source in your industry and make your visitors come back more often. Providing access to additional information is one of the elements of making this possible. Use RSS to syndicate content from other websites; and, as an upgrade, to target their most focused content needs, create RSS radars for your keyphrases.


All of the above will create advertising venue and create a new source of income.


In addition, by using RSS advertising as an advertiser yourself, you can increase the reach of all of the above activities.
Direct Marketing
What if you are a direct marketer? In my view, RSS meets the needs of even the most demanding direct marketer. It offers marketers most of what email marketing offers, except for the strong push factor.

Take the first step (it's free).
---
---
---