I'm sitting in the chic lobby of Aloft, the groundbreaking Starwood hotel that has opened in the virtual world long before one opens in the real world. I'm alone at the bar, last stool on the left. I'd order a drink, but there doesn't seem to be a bartender on duty. I'd complain to the manager, but I can't find her, either. In fact, there isn't another soul in sight. No guests. No staff. It has been this way every time I've come for a visit.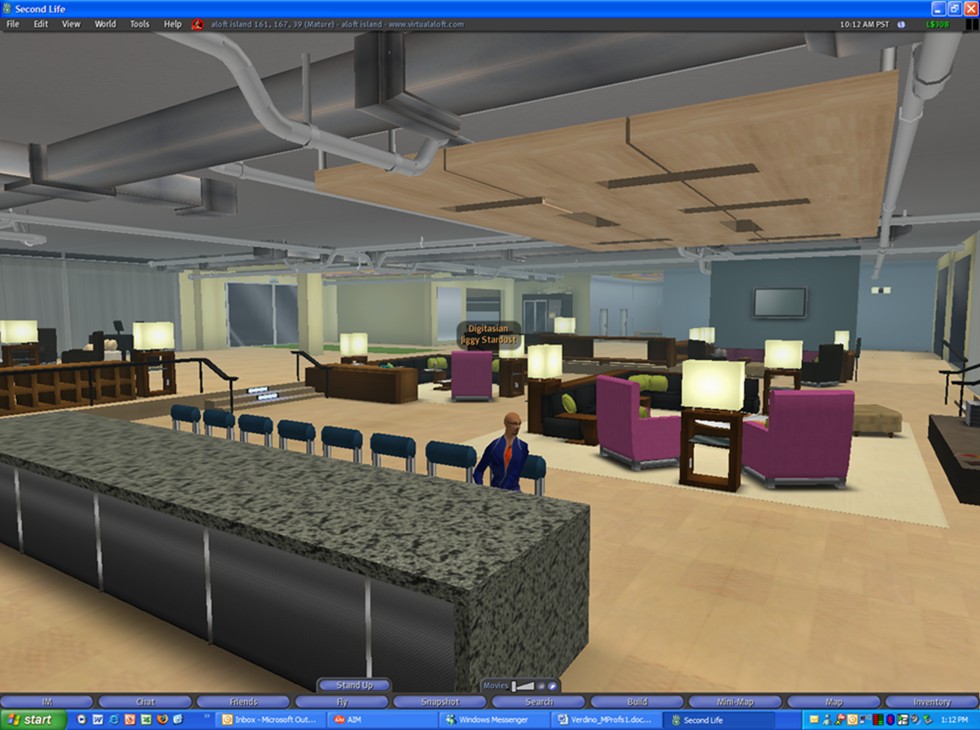 Click to enlarge
Virtual Aloft is beautifully rendered. The attention to detail is amazing. But, still, it feels dead. This can't be what Starwood was going for when it started this marketing experiment.
Bored, I teleport to the American Apparel store. Empty, too. A sign next to the unmanned cash register reads FREE BEER. There's that drink I was looking for... but an offer of free beer from a youth-oriented retailer?
Actually, the sign and the cases of Tecate Mexican beer stashed behind the counter are the work of a rogue resident, an act of silent protest against Big Marketing's invasion of the virtual world. The beer has been there for months, along with a tray of steaming tacos and a piñata that hangs from the store's ceiling.
Toyota's Scion show room? Empty.
Reebok? Empty.
The Telus mobile phone store? Empty, too.
Welcome to Second Life, marketers. This is the vibrant virtual community that the business press is trumpeting as the new, new thing? The metaverse that companies are tripping over each other to infiltrate?

Take the first step (it's free).
---
---
---