The utility of social media tools within the consumer marketing environment is fairly obvious. Consumers have adopted communications vehicles such as Twitter and Facebook en masse, and they are not only using those networks to engage brands but also expecting a dialogue in return.
The challenge for consumer brands is not whether to maintain a presence on social media networks, but how to best handle the influx of conversations. In return for their investment, organizations gain access to a robust new form of measurement that informs sales, marketing, customer service, and other critical functions.
For B2B, the return on investment (ROI) from those networks is less clear. Buyers of professional services, in particular, pose an interesting challenge for marketers. Such customers are aware of these social networks and are most likely engaging consumer brands on them—just like many others. But to what extent are B2B customers willing to engage with business service providers via social media? What is their level of engagement, and which social media tools are most effective?
For the B2B marketer looking to limit her time and resource investment in search of an efficient approach to social media, the research we conducted is likely to disappoint. Now in its second year, our study finds that buyers of professional services, specifically in-house counsel, tend to engage social media networks that contain robust, well-developed content that requires both an investment of time, and, perhaps even more daunting, a willingness to take a thought leadership position on issues of high importance.
How ingrained in social media are B2B buyers?

We recently decided to pose that question directly to in-house counsel, the buyers of legal services—and among the most sophisticated purchasers of business services. The current survey of 334 in-house counsel, released in January 2012, was conducted in partnership with Inside Counsel magazine and the Zeughauser Group. (Read more about the findings, here.)
The results were surprising, and, in many instances, they ran counter to what marketers are seeing in the consumer environment. Survey respondents engage the "Big Three" social media networks (Facebook, Twitter, and YouTube) in their personal lives, but they value LinkedIn, Wikipedia, and blogs as sources of information for their professional lives.
Although in 2010 we found a large generational gap, with a wide disparity in overall social media use between those age 30-40 and those age 40+, that gap closed significantly in 2012, creating a "leveling off" trend.
The following are additional highlights of some significant findings.
Prominent blogs influence hiring of outside counsel
Contrary to the recent University of Massachusetts at Dartmouth finding about dwindling blog use among the Inc. 500, 76% of our respondents say they attribute at least some level of importance to a lawyer's blog when deciding which law firms to retain.
In addition, the percentage of respondents who say they expect a law firm's blog will exert influence on buyers in the future went up slightly from the 50% in 2010 to 55% in 2011. Respondents also indicated that they read law firm-branded or attorney-authored blogs slightly more than they read blogs written by professional journalists.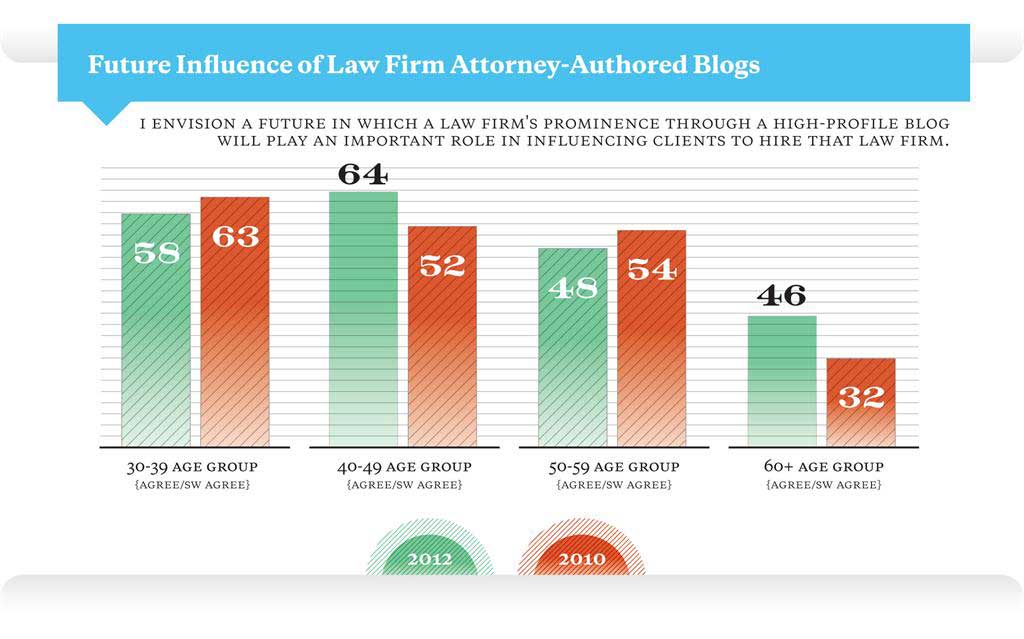 LinkedIn is considered the "serious" social network
LinkedIn remains the most commonly used social media platform for professional reasons among in-house counsel. LinkedIn use among older counsel (between age 40 and 65) increased significantly from the previous year. Most counsel of all ages uses LinkedIn at least weekly.
In addition, 88% of respondents perceive the content they obtain via their LinkedIn connections as credible.
Interestingly, the research also revealed an increased use of LinkedIn for personal reasons, particularly among in-house counsel older than 40. That behavioral change could be the result of LinkedIn's having reached such critical mass that it is useful for career mobility and for staying in touch with important personal contacts.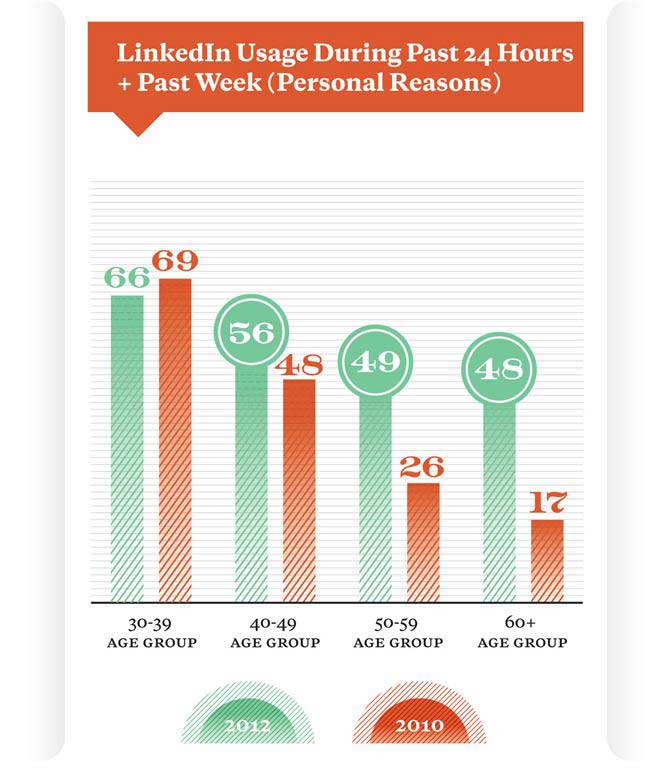 Facebook, YouTube, and Twitter have yet to gain traction
Also contrary to the University of Massachusetts at Dartmouth data, the three most popular social media networks have yet to gain traction with this audience as a tool to connect professionally with outside law firms.
However, this audience demonstrates a high level of personal use of Facebook and YouTube. That pattern likely indicates future marketing opportunities—if counsel continue to use both.... and that use "creeps" into their professional lives.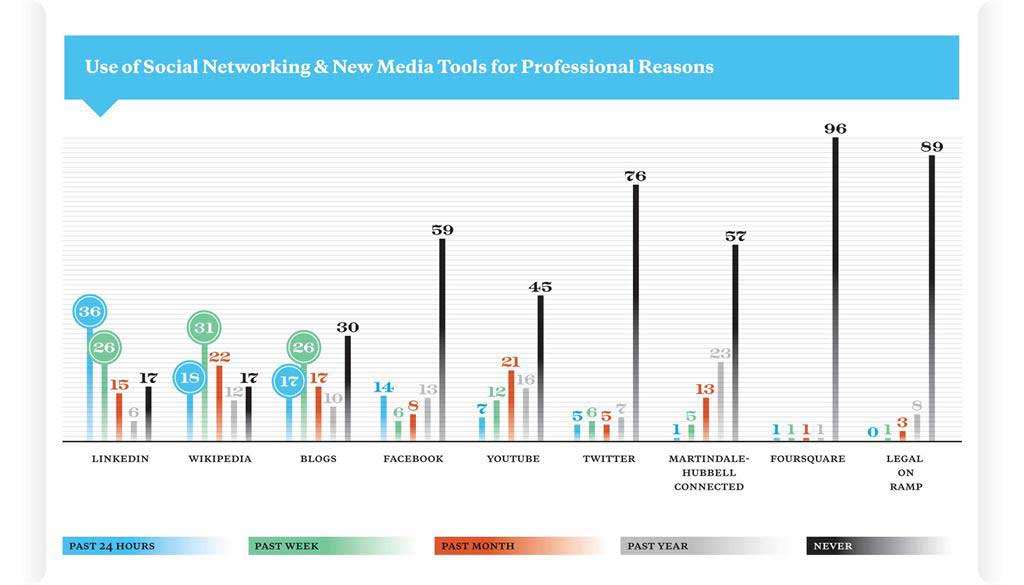 Wikipedia is emerging as an important research tool
The percentage of respondents who say they have visited the Wikipedia page of their outside counsel is very small (7%).
However, the percentage of respondents who say they regularly use Wikipedia to research issues is much larger (87%); moreover, 51% say they use the site to conduct company and industry research, and 30% view Wikipedia as a primary source of information on the Web. Respondents also tend to agree that Wikipedia has a high level of overall credibility.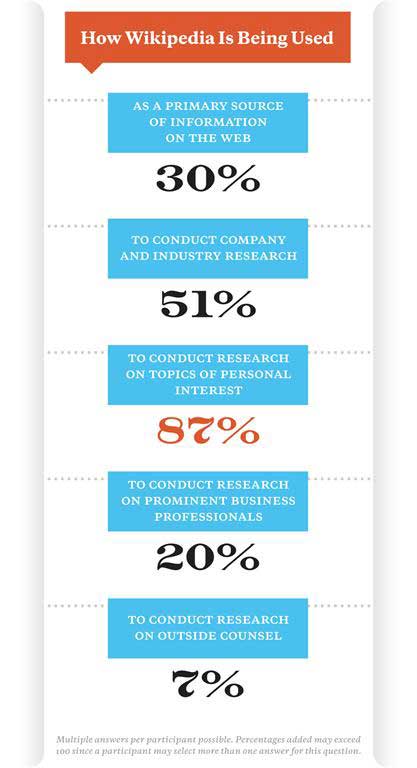 Overall engagement (and, as a result, ROI) is difficult to measure
Of the strong majority (86%) who say they use new media, 68% say they use it to listen exclusively, while only 32% say they both listen to and engage with others.
The large group of "invisible users" largely prefers to consume content without interacting on new media channels. That is likely because in-house counsel have no incentive to generate content... not to mention that many corporate social media policies allow only centrally generated content and the broadcast of corporate talking points instead of actual online engagement.
What's the upshot for today's B2B marketer?
We are careful not to overstate the importance of social media within the professional services marketing realm, particularly because this audience values referrals from sources it trusts above all else and continues to consume most of its content from traditional media sources. We therefore view social media as a channel with distinct advantages and disadvantages. However, when you question how an organization might influence those referrals and become part of the ongoing conversation that is fueled by both traditional and social media sources, some interesting opportunities begin to emerge. Here are four of them:
Blogs present a clear opportunity to reach sophisticated audiences such as in-house counsel, but the cost of entry involves a precious commodity—time. The good news is that because most respondents are visiting blogs once a week on average, you have less pressure on the frequency of output... so your blog posts can be more thoughtful and compelling. This audience not only views organization-branded content as credible but also prefers it over more-traditional media outlets.

LinkedIn presents a strong communications opportunity because of its high level of credibility and its standing as a preferred information source among this audience. Few B2B organizations, particularly professional services firms, are effectively using LinkedIn; accordingly, it affords an opportunity for differentiation.

B2B marketers who are not using new media actively to communicate with clients and prospects should take note that buyers (in-house counsel, in this case) age 40-60 are adopting new media in growing numbers. The new media power users are no longer strictly those in the early stages of their careers with less budgetary influence.

"Listening" via social media networks may not be adequate for measuring new media ROI among sophisticated buyers of business services. According to the "invisible-user" phenomenon that this research uncovered, engagement is not yet a viable objective.
Join over 600,000 marketing professionals, and gain access to thousands of marketing resources! Don't worry ... it's FREE!