Newspaper Sites Attract 38% of Internet Users
November 6, 2009
|
548 views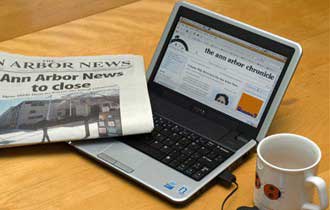 Newspaper websites attracted more than 74 million unique visitors in the third quarter of 2009, accounting for 38% of all Internet users, according to a study conducted by Nielsen Online for the Newspaper Association of America (NAA).
Web newspaper readers generated more than 3.5 billion pageviews during the quarter, spending 2.7 billion minutes browsing the sites over more than 596 million sessions, the study found. *
Consumers value print newspapers
Other NAA-sponsored research, released in September, indicates that consumers find substantial value in newspaper print products, with newspaper companies able to command higher newsstand and home-delivery prices for print editions, NAA said.

NAA's 2009 Circulation, Facts, Figures and Logic report* found higher levels of subscribers retaining subscriptions, with subscriber "churn" falling dramatically to 31.8% in 2008, compared with 54.5% in 2000.
In addition, 32% of newspapers priced their daily edition at 75 cents at the end of 2008 (vs. just 2% in 2006), while the average seven-day, home-delivery weekday rate rose 8.6% at the same time newspapers are increasing retention, according to the study.
New business models boost print revenue
Membership is required to access the full version of this how-to marketing article ... don't worry though, it's FREE!