The Times They Are A-Changin'—Better Prepare
July 3, 2009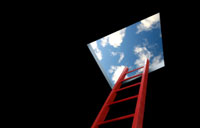 There's something in the air. There are small and (dare we say) consistent signs that that the economic crisis has begun to level off. Many companies, while still implementing cost-cutting measures, are beginning to plan for growth. Phillip Lay, of TCG Advisors, writes in Under the Buzz: "Executive teams are starting once again to look to the future and make investments accordingly. However delicate things still are in the global and U.S. economy, this change in movement signals the return of the single most critical ingredient that makes the world go round: ... hope."
That said, Lay advises tech business leaders to "take the temperature of their company's ongoing business viability" and address core questions like these:
"How 'investable' are our main

categories

to customers today and going forward, in light of the changes occurring in the U.S. and global marketplace? For example, what is the impact of cloud computing on our current business?"
"What

offerings

do our target customers need from us to solve problems that are critical to them going forward? How different are they from what we were providing twelve months ago, when the economy was in a very different situation?"
"What different marketing, partnering, sales, and/or channel

programs

do we need to execute today in order to create and fulfill demand, and to satisfy our customers' needs for support and care?"
The Po!nt: Having reduced costs and re-engineered processes to weather the bad economy, many of your customers will emerge from the recession leaner, stronger and poised for growth. Prepare now to meet them.
Source: Under the Buzz. Read the full article here (pdf).

→ end article preview
Read the Full Article
Membership is required to access this how-to marketing article ... don't worry though, it's FREE!