How Dare You Assume That?
July 3, 2009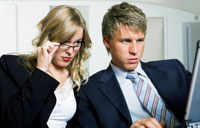 When you hand someone a business card at a conference, do you assume your email address will be added to their list for marketing campaigns? Probably not. And that's why Al Iverson was so annoyed when he learned that is exactly why he had recently received something he considered spam—and from a competitor, no less.
"Did I want this mail?" he asks in a post at the ExactTarget blog. "No, I didn't ask for it, and I didn't expect it. Also, do you think it's wise to obtain competitor email addresses at conferences and sign them up for your newsletter? Do you really want to broadcast what you're doing, directly to your competitors?"
Iverson concedes that not everyone will share his dim view of the transgression. But he argues that there is a clear line between you may have my contact information and please send me your newsletter. The mistake here was assuming—rather than requesting—permission. "And that assumption was a bad one," he says, "and it colored my opinion of him, and his company's permission practices, accordingly."
The (oft-repeated) message for email marketers here: Be sure you have explicit opt-in permission before you add anyone's address to your list.

The Po!nt: Don't assume too much. "Send mail to people who don't want it, even if it's on topic, and it garners spam complaints," says Iverson. "It's that simple."
→ end article preview
Read the Full Article
Membership is required to access this how-to marketing article ... don't worry though, it's FREE!