Turn That Downturn Upside-Down
July 15, 2009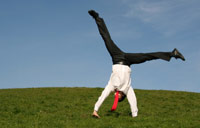 "Downturns provide significant opportunities for calculated growth by smart and aggressive firms," notes a post at the Gerson Lehrman Group (GLG) blog. But it also offers this caveat: "Global expansion, to be successful, must be calculated, targeted, and backed by willingness to persist." To help you outmaneuver competitors who retrench when faced with an economic slowdown, GLG offers these tips for upping the global ante:
Select foreign markets carefully. "Globalization is not easy," says the post. "It demands rigorous analysis, planning, and execution."
Remove the middlemen. When you identify areas you want to penetrate, consider a direct, e-commerce strategy.
Don't underestimate the importance of branding. GLG cites the purchase of HUMMER by China's Tengzhong Heavy Industrial Machinery: While the brand is toxic in the American automotive market, it may be leveraged effectively in other locations and applications.

Address your foreign audience on their terms. "Even the most effective cost-cutting and down-market product design will fail if marketers fail to approach local markets 'locally,'" says GLG.
→ end article preview
Read the Full Article
Membership is required to access this how-to marketing article ... don't worry though, it's FREE!