Beware the Two-Edged Sword
August 12, 2009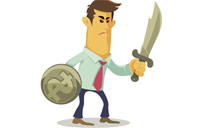 "The [customer-relationship] sword has two edges," warns Jim Novo in a recent post at Marketing Productivity Blog. According to Novo, relationship marketing creates higher expectations in customers who engage: "If you fail to perform, or just act like an advertiser would [no give, only take], then you will end up [causing] more damage than if you had simply ignored the two-way idea," he states.
He suggests that newly committed customers may be easily disappointed because "the human brain always questions actions taken, however briefly, and tries to resolve conflict." The accepted term for this phenomenon is post-action dissonance, he reports.
"Many of the online 'discoveries' that have to do with marketing usability and performance—use of headlines, copy treatments, landing pages, pathing/navigation, button layouts, location signaling—are rooted in the psychology of post-action dissonance," Novo notes.
Example: "[I]n the early [online] shopping carts, there was rarely any confirmation of a successful transaction," he reports. "[T]his made customers uncomfortable and caused additional customer-service load." The marketing solution: Merchants began adding a simple "Thank you for your order" confirmation message at the end of each online transaction.

Marketers need to predict when such instances of post-action dissonance may occur—online or offline—and work quickly to counteract it, Novo says. "It's not about the channel, it's about the receiver-humans," he concludes.
→ end article preview
Read the Full Article
Membership is required to access this how-to marketing article ... don't worry though, it's FREE!