Stop Being So Mysterious
August 26, 2009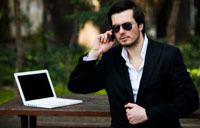 "In email marketing, we seem to tolerate a level of mystery that would not be acceptable in any other channel," says Stephanie Miller in a post at the Daily Fix blog. Take deliverability: You might know, for instance, that you have a "delivered" rate of 95 percent. "This is a good number to track," Miller notes. "[I]t's typically the number of messages that didn't bounce due to an unknown or ill-formatted address."
However, while it's a good start, that number won't give you the full deliverability picture, Miller says, because spam filters block, on average, 20 percent of those "delivered" marketing messages. Yep.
It's time to solve this mystery, and find your true deliverability numbers, Miller insists: "You must know how many messages actually get past the spam filters, reach the inbox and earn a response."
To get this data, ask your broadcast vendor for information on the email types (newsletters, promotions) and ISPs that give your campaigns the most trouble, she suggests.

"Once you have the data, you can quickly use it to increase inbox placement and boost revenues," she says. "You will ferret out the root causes of deliverability failure, which typically include high complaints, too-high frequency, lack of targeting or relevancy, a poor infrastructure or lack of authentication, and, to a smaller extent, the HTML/content construction."
→ end article preview
Read the Full Article
Membership is required to access this how-to marketing article ... don't worry though, it's FREE!