Monetize This
September 25, 2009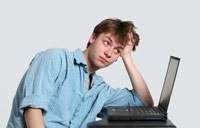 "We were looking at all the conferences coming up," says Guy Kawasaki at the beginning of a video from the Revenue Bootcamp conference, "and everything was about social media and Twitter and basically gathering eyeballs, but nobody was talking about monetizing people. And so we thought, what a concept, maybe we should help people monetize things, as opposed to collect eyeballs."
There's only one problem, as he discovered during an in-depth conversation with a panel of young people—they're not in any mood to be monetized. "They feel little obligation or guilt about getting everything for free," he notes in a post at the Open Forum blog, "so if someone tells [them] that unless they start paying, a company/service/site will go away, it's not going to work."
Here are a few of the "lowlights" that Kawasaki highlights:
Young people rarely click on ads, and they claim that online advertising has no impact on their buying decisions.
If Facebook began to charge its users, they would simply move to another—free—service.
One panelist doesn't even pay for Internet access, preferring to use the wireless network of an unsuspecting neighbor.
According to Kawasaki, "The lesson is that it doesn't matter what a company 'needs;' it only matters what customers are willing to do." And that's Marketing Inspiration if we've ever heard it.
More Inspiration:
Steve Woodruff: What's the Scoop at Ben & Jerry's?
Paul Barsch: Beating the Placebo Effect: Red Pill or Blue?
Elaine Fogel: The Different Ways People Use LinkedIn

Upgrade Your MarketingProfs Membership: Become a Pro Member and gain instant access to hundreds of exclusive, cutting-edge articles, case studies, templates, tools, online seminars, research and how-to guides to make your marketing smarter and more effective.
→ end article preview
Read the Full Article
Membership is required to access this how-to marketing article ... don't worry though, it's FREE!