Find Out What It Means to Me
September 4, 2009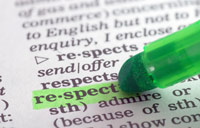 In a post at Deliverability.com, Andrew Kordek acknowledges the ongoing push for relevant email campaigns—sending the right message to the right person at the right time. But despite these discussions, he worries that email marketers stop short of demonstrating true R-E-S-P-E-C-T for the people on their email lists.
"Are you respecting your subscribers by sending them an email every day pitching your company?" he asks. "Think about this for a minute. Would you call up a prospect every single day and pitch them over the phone? Better yet, would you do it to a friend? Would you call them up three days a week to sell them something? I bet not."
Kordek argues that the concept of respect goes even beyond frequency. It means thinking of each name on your list as a real person who made the conscious choice to receive your messages.
"Respect that they are intelligent human beings who support your program," he advises emailers. "Respect that if you give respect, you will get it in return."

The Po!nt: That's all they're asking. "[D]o you treat your customers with respect," asks Kordek, "or do you and your company just see them as a number?"
→ end article preview
Read the Full Article
Membership is required to access this how-to marketing article ... don't worry though, it's FREE!