Don't Try That Around Here
September 11, 2009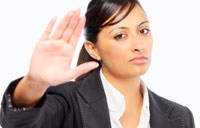 Laura Atkins, in a blog at Word to the Wise, recently invited the blogosphere to comment on a reader's claim that direct-mail catalog marketers would soon begin to rent and trade email lists as if they were physical addresses. "Once they figure out how to do this legally and ethically," wrote the reader, "I hope that this type of prospecting will become feasible and an alternative to others like Google PPC."
Over at Bronto, the marketing team took Laura's challenge, and offered their (mostly negative) thoughts on the subject at the Bronto blog:
"While some companies that rent/swap emails could be mega-targeted and compelling," says Bronto's Kristen Gregory, "the bottom line is that businesses will always think more highly of their offerings than anyone else. "
"Is there data out there that supports that list trading in the catalog business works?" asks Kelly Lorenz. "Yes. Does that mean it will translate to email? No. Why? To me, email is much more personal than direct mail. It's much closer to a 1-to-1 communication than direct mail could hope to be. Subscribers can tell you much more about themselves beyond demographic data and you can send very relevant, low-cost communications to them via email."
Bronto's Chris Wheeler, meanwhile, worries about deliverability issues with rented email lists. If a list contains bad addresses and spam traps, or generates complaints, it's your reputation—not that of your vendor—that takes the hit, he says.
A fascinating give-and-take on the subject of email list rental has ensued in the Bronto blog's Comments section. It's worth a look.

The Po!nt: Rent with great care. At this point, renting or trading an email list may carry a lot of risk—possibly more than the potential ROI merits. Proceed with caution.
→ end article preview
Read the Full Article
Membership is required to access this how-to marketing article ... don't worry though, it's FREE!