Tell Them a Story
October 21, 2009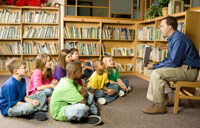 A recent post at Bazaarblog touts the power of customer outreach through story-telling. The blog offers an inspired effort by CVS Caremark as an example.
The CVS outreach campaign and website, For All the Ways You Care, features stories about caregivers—the thousands of "unsung heroes" who patronize CVS pharmacies daily. "CVS Caremark provides more prescriptions than any other pharmacy," Bazaarblog reports. Dedicating a site to customers who are caregivers was, therefore, a perfect fit. "The remarkable stories found on this site are divided into segments including everything from adoption to disaster relief," the blog notes.
CVS wisely remains in the background at the site, serving simply as a respectful host. The result is a vital portal boosting customer loyalty. "While the stories don't specifically mention or tie to CVS Caremark pharmacies, they build a brand association with CVS and caregivers," Bazaarblog explains.
To keep readers engaged, For All the Ways You Care recently ran a contest to award the best caregiver stories submitted to the site. The contest boosted engagement even further.

"While winners were chosen in May 2009, [and] heralded with a national media blitz," Bazaarblog notes, "the site still attracts new stories, even allowing writers to create their own scrapbook around each story."
→ end article preview
Read the Full Article
Membership is required to access this how-to marketing article ... don't worry though, it's FREE!