Get in the Hot Seat
October 7, 2008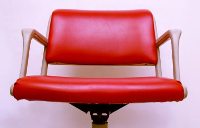 It happens all the time. We get so caught up in routines and deadlines that we charge forward, never pausing for an analytical look at why we do the things we do. With this in mind, Mark Brownlow jotted down a dozen questions he planned to ask himself about his email marketing during a recent trip, and then published all 12 in a post at the Email Marketing Reports blog.
Brownlow kicks off with a bang: "Are you sending out email just because it's scheduled or because it makes sense to do so (for both recipient and sender)?" It's a fair question, and one that might leave some of us wincing.
A few items down, he comes to the hot topic of ISPs. "Do you worry more about what ISPs think about your email than what subscribers think about your email?" he asks, then responds himself. "If you take care of the latter, won't the former take care of itself?"
He even manages to hit on the idea of habitually following industry leaders. "Are you doing things because it best serves your objectives," he queries, "or because it's what everyone else in your market does?"

Brownlow's final question sums up his bottom line. "Is each email you send out really the best you can do?"
→ end article preview
Read the Full Article
Membership is required to access this how-to marketing article ... don't worry though, it's FREE!