A Clearly Good Marketing Plan
October 22, 2008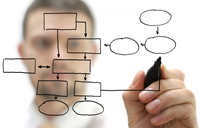 "Marketing plans are essential documents for virtually any business," says Tim Calkins in an article at MarketingProfs. "[I]t is hard to do great marketing without a clear plan. Unfortunately, many marketing plans simply don't work very well; they add little value and end up on a shelf, collecting dust." How to create a plan you'll actually use? Here are three of Calkins' tips:
Don't get bogged down in data. "The role of a marketing plan is to lay out a course of action," he says. "A good plan should explain precisely what the business should do to build revenue and profits." In other words, skip the endless pages of data analysis and get down to practical recommendations as soon as possible.
Include people from other departments in the development process. They can alert you when a proposal isn't feasible and will be less likely to fight a plan they helped craft.
Frame your recommendations within a compelling rationale. Without supporting evidence, selling your marketing plan to key executives will be a challenge. Says Calkins, "The plan has to be convincing; it has to present what should be done and, more importantly, why the plan will actually work."

The Po!nt: "Creating a great marketing plan isn't all that complicated," says Calkins. "[A] good plan simply presents the objectives for a business, the strategic initiatives, and the tactics."
→ end article preview
Read the Full Article
Membership is required to access this how-to marketing article ... don't worry though, it's FREE!