Time to Polish That B2B Star
January 15, 2009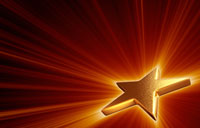 It's a brand new year! Time to start fresh, set new goals—and write 52 dry-as-bones B2B blog posts.
But wait. The words "B2B blog" don't have to strike dread in the hearts of readers. Chris Brogan wrote a terrific post in 2008 that will surely help you polish your B2B blogs. It's worth a revisit as 2009 gets into full swing. Among his tips and topic ideas:
Think hard about the customer/user. "Write your posts with your customers' usage in mind," Brogan advises. For example, you could write:
Profiles of little-known, third-party products that nicely complement your products
How-to posts explaining details about your products or services
Product-release roadmaps—if they're public—to keep your customers in the know
Respond to industry info and topical news. "Look for stories in the mainstream news that might cross over with your B2B customers, and write the tangential article to match," he says. A big plus here: Google loves news; the right blog post could rank quite high. Example: Did you blog about the iPhone when it debuted, with an eye to how your clients might use it?

Ask questions and solicit input. "[Y]ou might find yourself getting information that will help you improve your product, service, or maybe the business itself," he notes. "Be open to it. All of it."
→ end article preview
Read the Full Article
Membership is required to access this how-to marketing article ... don't worry though, it's FREE!