Some Extremely Bad Words
February 3, 2009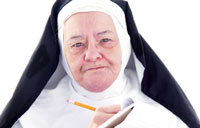 In a post at Entrepreneur.com, Susan Gunelius identifies ten words marketers should avoid in the coming year. "I think her list will surprise you," says Drew McLellan at his Marketing Minute blog. "It includes words that traditionally have been touted as buying trigger words … [and] … copywriting 101 tips that have been passed down for ages." For instance:
Free. While "free" will grab anyone's attention in a down economy, it'll also attract the unwelcome notice of an ISP's spam filter. According to Gunelius, reaching a recipient's inbox is more critical than ever, and you shouldn't risk having your email consigned to the spam folder. "Replace 'free' with 'complimentary' or 'gratis' to sneak by spam filters without compromising the effectiveness of your message," she recommends.
Very and Really. In most cases, these two add nothing to your copy except unnecessary filler—deleting "very" or "really" will likely improve a sentence's flow and impact.
Drinkability. If you're one of Budweiser's competitors, you shouldn't even consider a word around which the brewer has built an entire campaign; likewise, steer clear of words your customers will also associate with your competition. "Instead," she suggests, "differentiate your product and business with unique copy and messages that your target audience is likely to respond to."

The Po!nt: "The rules of successful copywriting don't change from one year to the next," says Gunelius, "but as the marketplace and environment change, so must your messages."
→ end article preview
Read the Full Article
Membership is required to access this how-to marketing article ... don't worry though, it's FREE!