Put Away Your Unreliable Mirror
February 24, 2009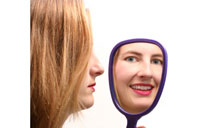 If you're looking for good business advice, says Drew McLellan, don't look in the mirror. "I know what you're thinking," he says. "You are the one in a million business owner who can in fact, be objective. Don't fool yourself. That's like asking someone who's had 10 shots if they're okay to drive."
For a balanced view, you need to find objective input that isn't influenced by your passion and ambition. McLellan recommends options like these:
Create an advisory board that meets regularly to review the state of your business; this way, important advisors like your attorney and accountant can offer their perspective on a regular basis.
Invite good customers to start an advisory board of their own.
Join a mastermind group where you can brainstorm and vet ideas in a supportive environment.
Get involved with professional organizations, especially those boasting an international membership. "You can learn best practices from each other," he says, "and not worry about competing."
The Po!nt: "No one is less objective about your business than you are," says McLellan. "No one has more of an emotional investment that you do. No one has more on the line than you." This lack of objectivity can lead to hazardous decision-making—so be sure to get an outside perspective.
Source: Drew's Marketing Minute. Click here for the full post.

→ end article preview
Read the Full Article
Membership is required to access this how-to marketing article ... don't worry though, it's FREE!