This Press Release Is Off the Record
February 2, 2009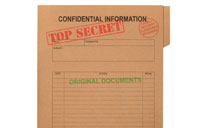 Most of us would agree that the entire point of a press release is getting media outlets to report on its contents. The more coverage, the better. So imagine David Meerman Scott's bemusement when he received a release accompanied by a sternly worded—and counterintuitive—legal notice that forbade its dissemination: "This electronic mail transmission," it began, "contains confidential information intended only for the person(s) named. Any use, distribution, copying or disclosure by any other person is strictly prohibited. If you received this transmission in error, please notify the sender by reply e-mail and then destroy the message." Huh?
Scott also highlights a 361-word press release from a major oil company that reads very nicely until it terminates in a 519-word disclaimer parsing the definition of several words that weren't even used in this particular announcement. It's but one, he says, of the thousands he could cite.
Yes, lawyers sometimes insist on CYA language, but its heavy-handed presence sends exactly the wrong message. "By including these statements," argues Scott, "the press release says don't believe a word we're saying. This is what happens when lawyers get in the way of PR."
Scott distills our Marketing Inspiration into a quote from David Henderson's The Media Savvy Leader: "Always tell the truth and you won't need to hide behind an attorney or safe harbor."
More Inspiration:
Paul Williams: Can You Help My Lemonade Stand?
Susanne Sicilian: MPlanet 2009: Back to the Basics
Mack Collier: How Should Your Company Handle Negative Blog Comments?

→ end article preview
Read the Full Article
Membership is required to access this how-to marketing article ... don't worry though, it's FREE!