Tell It Like It Is, With a Smile
March 5, 2009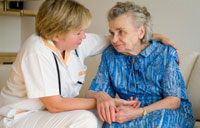 "Given the challenging times we're living in, it's likely that the worldview your prospects hold today is not the same one they held a year, or even several months, ago," says Ardath Albee in a recent post at the Marketing Interactions blog.
So, have your communications changed to reflect the times? Albee says this is a must: "Changing world views also shift perspectives." In other words, it's crucial to be speaking in a language that people can understand and relate to in these weird times. She offers some useful questions to ask your marketing and communications teams in a must-needed Content Audit. Among them:
Make sure your payoff actually pays off. "Is your content all about increasing revenues?" she asks. "Right now, cutting costs may be of more importance to your prospects."
Measure your tone. Focus on hope, Albee advises. Right now, a hopeful tone is "persuasive and engaging."

Assess your scenarios. "Are you addressing today's problem-to-solution scenarios, or have those shifted, too?" she asks. "Has the makeup of the buying committee shifted? What new factors are requiring more attention?"
→ end article preview
Read the Full Article
Membership is required to access this how-to marketing article ... don't worry though, it's FREE!