The SXSW Cheat Sheet
March 20, 2009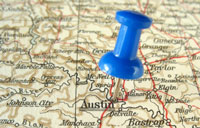 "This will be my third year [at SXSW]," says Aaron Brazell in a post at Technosailor, "but I'm a bit surprised, in a down economy, how many people are going for the first time." Because of that, he decided to offer some advice for the newbies, and kicks off with the behavioral patterns they'll likely follow:
Wide-eyed freshmen wander aimlessly; they tend to believe they're getting something from the experience, but might not know exactly what that is.
Sophomores want it all, racing from session to session, networking fiercely and attending any party to which they're invited.
By their junior year, veteran SXSWers start to focus on relationship-building. "This means long lunches," notes Brazell, "and maybe avoiding the 'meat market' networking parties in favor of smaller, intimate settings."
He also gives practical tips like these:
Get a room near the convention center.

Since most of the SXSW action happens in the immediate vicinity, and time is in short supply, it's worth staying nearby.

Pack for Austin's unpredictable weather.

You don't want to be caught without a jacket in a cold spell, or spare shoes if you're trapped in a torrential downpour. "It can and does happen," notes Aaron Brazell.

Pace yourself.

Have a good time, but don't overcommit. Also, be sure to get enough sleep and water.
You'll get the most Marketing Inspiration out of SXSW if you think like a veteran—those with the smarts and savvy can skip a few grades and hang with the AP crowd.
More Inspiration:
Paul Dunay: With Facebook Pages, Who Needs a Website?
Jacob Morgan: Social Media Translated into the Real World
Susan Solomon: It's All for One and One for All, Guys!

→ end article preview
Read the Full Article
Membership is required to access this how-to marketing article ... don't worry though, it's FREE!